Choquequirao Trail – Itinerary
Day 1: Cusco Capuliyoq – La Playa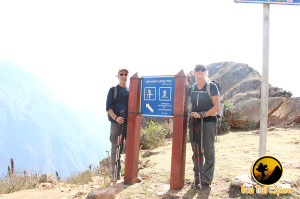 We will pick you up from your hotel at 4:30am in our private van, and we'll drive for about 4 hours until we reach Capuliyoc—the starting point of the trek (2,900m). This is also where we are going to meet up with our team and our professional chef. These people will be responsible for setting up camp, for carrying all of the supplies, for loading and gathering the horses, and for cooking delicious meals while on the trail. Our chef will serve you your first breakfast as you observe the stunning viewa of the snopcapped mountains glinting in the morning light. Once you are done eating, we will begin the Choquequirao Trail adventure. On this first day, the walk will be all downhill and will last for about 3 or 4 hours or just until we make it to our designated lunch area.
The trail we will be on is made from dirt meaning that it's a little dusty and slippery, but if you have good hiking boots and hiking poles, you will be fine. During the descent, you will be accompanied by the breathtaking views of the Apurimac Canyon and its many amazing landscapes. Each one has its own beautiful flora and fauna that the guides would be happy to inform you of. It is another hour after lunch until we reach the campsite located at the bottom of the valley next to La Playa river (1,500m).
DAY 2 La Playa – Choquequirao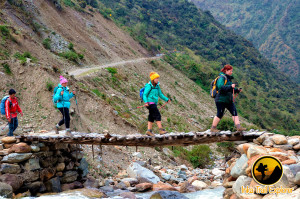 After an early breakfast we will be ready for the day, as soon as we cross the river our adventure starts all uphill for 4 or 5 hours  hiking with zigzags, we will get pass by beutiful sugar farms, and locals offering a traditional drink called Cambray, made from sugar cane, better views of the valley from here, possible Condors soaring above canyon(the largest bird of the Andes) and beautiful flora and fauna, this climb is one of the most challenging parts of the Choquequirao Trail, of course Inka trail explorer provides an emergency horse in case you will get tired and might want to ride for some sections.
Marampata (3000m / 9,780ft.) a beautiful place with stunning views is a perfect place to enjoy a delicious lunch, afterward we will continue on the last section of our trek for two hours until Choquekirao. This will be by far the most impressive section of your entire Choquequirao Trail since you have lots of amazing views from the summit down to the canyon, lots of Orchids and flowers and lots of black bears. Upon your arrival to the campsite our porters will set you in your tents, If you have some energy left you can walk up to Choquekirao and enjoy the sunset.
DAY 3 Tour in Choquequirao – Marampata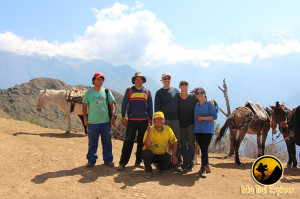 After an early breakfast we will get prepared for the most amazing day of our Choquekirao trail. we start walking 30 minutes to get there and begin our tour,  Choquekirao is considered to be bigger than Machu Picchu, but most of it is still hidden in the forest, the most impressive parts of this site are the temples, Water Chanels, astronomical observatories, and the location itself, we are going explore with a professional tour guide for about 4 hours and then we will head back to the camp for lunch and a little siesta.
Wi will have more time to continue exploring the site, remember our Guides are experts in Archeology, Geology and History. You will get to explore amazing areas from the site – the Llama area is steep downhill 30 minutes walk until you will see very narrow farming terraces with Llamas that were built into the wall out with white stones. After explore and enjoy the beauty of this place we are going to walk back to the campsite, this time all the way to Marampata, this is another perfect place to spend the night and enjoy the Inca constellations.
DAY 4 Marampata – La Playa – Chiquisqa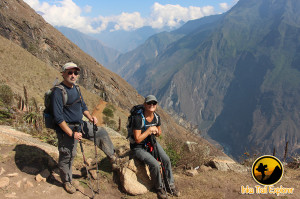 After breakfast we will prepare our selfs for our way back to Chiquiska, always with amazing views of the canyon of Apurimac and the Guide always pointing out the beautiful flora and fauna you might have missed on your way to the Inca site, we begin the 3 hours steep downhill to la playa, this part of the downhill definitely requires hiking poles, highly recommended.
Finally we will reach la Playa and while we wait our lunch we can soack in the Apurimac River wich is great to relax the muscles and refreshing, after a great lunch we start climbing the opposite side of the mountain  for 2  hours to the camp of Chikisqa, this is in the back yard of a family but with amazing views, today you might also see some black bears, condors, humming birds and more.
Day 5 Chiquisqa – Capuliyoq – Cusco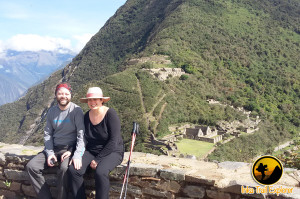 today is the last strech of our trek, after an early breakfast we start climbing the mountain until  Capuliyoq the starting and the ending of our  Choquequirao Trail,  After you survive this adventure you deserve some beers and enjoy your last lunch with your guide, porters, and horsemen. You will say goodbye to your team other than you Guide and then continue for about 4 hours on our minivan drive back to Cusco along the nice landscape. You will get to pass Curahuasi where people farm the famous Anis (a local tea),  you will be back in Cusco around 6pm with some stops on the way and we will drop you off in your hotel.
Included in Choquequirao Trail
Professional Tour Guide
We have professional tour guides in our staff with many years of experience on trekking and all of them with university degree in tourism and English. They all are passionate in the history, archeology, and also in the astronomy, they always will be happy teaching you about their heritage.
Briefing
The night before the trek, your guide will give you all detailed information about your trek schedule, an also you will get your duffel bag, which is to fix your personal belongings no more than 7kg / 14lbs you have to include your sleeping bag and air matt in case you have or rented.
Entrance fee
Inka Trail Explorer include all the entrance fee to the trail and Choquequirao ruins.
Horses
We do use horses  on this trek and we work with the horsemen from Cachora a little town located on the way to Choquequirao treks, Horses are going to carry all camping equipment, food supplies and your duffel bags. Also we include an emergency horse for each group from the alternative treks, if you feel tire or need a break, so an emergency horse is waiting for you.
Transportation
We include  the transportation in Choquequirao trail, from the beginning of your trek to the end of your trek, we pick you up from your hotel and at the end of your trek we leave you in your Hotel.
Camping Equippment
Our camping equipments is from the best quality and very comfortable, each Tent will be shared by 2 people, except if you request for a single tent, we provide spacious dining tent and kitchen tent.
Meal
Our amazing and experienced chefs, they prepare all the meals and they make magic happens during the trek in a small tent over a single flame. Always taking care of our trekkers health we provide all natural and fresh vegetables and selected meat proper from the Peruvian Andes. We honor all food restrictions, but you should mention as soon as you are booking your trek. Food is served family style and you will enjoy our traditional dishes from Peru and Cusco.
Water
Beginning from your first lunch antil your last breakfast, Inka Trail Explorer will supply all the wáter you need. The wáter you will get from us is straight from the glaciars and streams, it will be boiled, filtered and cooled before it will be distributed. You must bring your own wáter bottles or camel back. Highly recommended carring about 3L wort, you have the chance to refill your bottle every day at each meal.
Breakfast
We include Breakfast from the first day of the trek.
Lunch
We include Lunch from the last day of the trek
Not Included in Choquequirao Trail
Sleeping Bag
You really need a sleeping bag when you choose the camping option. Most of our campsites are above (3,000m /9,790ft) it can be cold. We highly recommend bring Sleeping bag for -10C (it can be rented from us).
Inflatable Matt
It is an optional but it helps in getting a good sleep, (it can be rented from us).
Hiking Poles
Highly recommended. It helps to keep your valance especially when you go steep downhill and it must have a rubber tip when bringing your own, if you do not have (it can rented from us)
choquequirao Trail – Price
Inka Trail Explorer warmly welcomes to you, and we really want to make the best experience for every one of you on this adventure. Our departure treks can be any days of the week, 12 months a year.
Price for March 2016 Group Tour Service USD 525
A group Service means that it is open to other trekkers to join you. Your group will have varying hiking and fitness abilities. All our Guides are experts on how to keep the trek moving and happy no matter how fast you go.
Private tour Service is available and priced by party size.
2 Hikers   US$600 per person
3 Hikers US$570 per person
4 Hikers   US$540 per person
5 Hikers   US$510 per person
6 Hikers   US480 per person
7+ Hikers US$450 per person
Discounts:
Student Discount: US$20 (Requires ISIC Card to qualify)
Student Discounts apply to anyone who has a valid GREEN ISIC card at the time of the trek or is 16 years old or younger. For those using an ISIC card to receive the discount, we do need to see a copy of the card at booking. For those booking children 16 years old or younger, we need a copy of their passport at booking time. Please send all to info@inkatrailexplorer.com
How to book
It's always better contact us directly and confirm with our team before your booking. Once you are ready, please fill in our Booking Form and pay the Deposit of $200 US per person. Our office will email you back that day with your confirmation. We always send out confirmations, so if you don't hear from us, check your spam or contact our office and we will resend.
We are so excited to take you on the Trail and thank you for your trust in us.
Essecencials
Passport
Valid, GREEN ISIC card (if you booked as a student)
 Daypack (the smaller, the better)
Water storage: Water reservoir like Camelbaks are encouraged – but enough for at least 2-3 liters.
Comfortable hiking boots (lightweight with ankle support)
What do you need pack In your Dafle Bag
Remember you are packing for 4 nights of camping . Horses will carry up to 8 kg of your personal items. This must include your sleeping bag and air matt.
3 wicking t-shirts
2 hiking pants
4 sets of undergarments.
4 sets of hiking socks
1 Fleece
1 Warm, down jacket: this trek includes 1 cold nights camping
Headlamp: essential
Comfortable shoes for camp
Quickdry towel. We provide small ones, you might enjoy something a little larger.
Small bottle of soap: we provide warm water each day to clean
Battery Charger: There is no place to plug in while trekking!
Sleeping bag: Recommend down bags for -10C at least
Toiletries
Face moisturizer
Handsanitizer
Wet wipes
Toothbrush and paste
Toiletpaper
Personal medication
First aid kit: band aids, moleskin, etc.
What do you need pack in  your Daypacks
Daypacks can be any size for hiking, but we always recommend the smaller
Passport Valid, GREEN ISIC card (if you booked as a student) Water storage: Water reservoir like Camelbaks are encouraged – but enough for at least 2-3 liters.
Water: we supply clean water at each meal. You are responsible for your first morning of water only as we won't have time to filter water until your first lunch.
Sunscreen
rain Gear
Bug spray
Sun hat
Rain gear
Fleece
Camera
Handsanitizer
Toilet paper and small plastic bag for waste
Extra Money for Souvenirs, Drinks & Tips