Short Inca Trail Machu Picchu – Itinerary
DAY 1: Cusco – Machu Picchu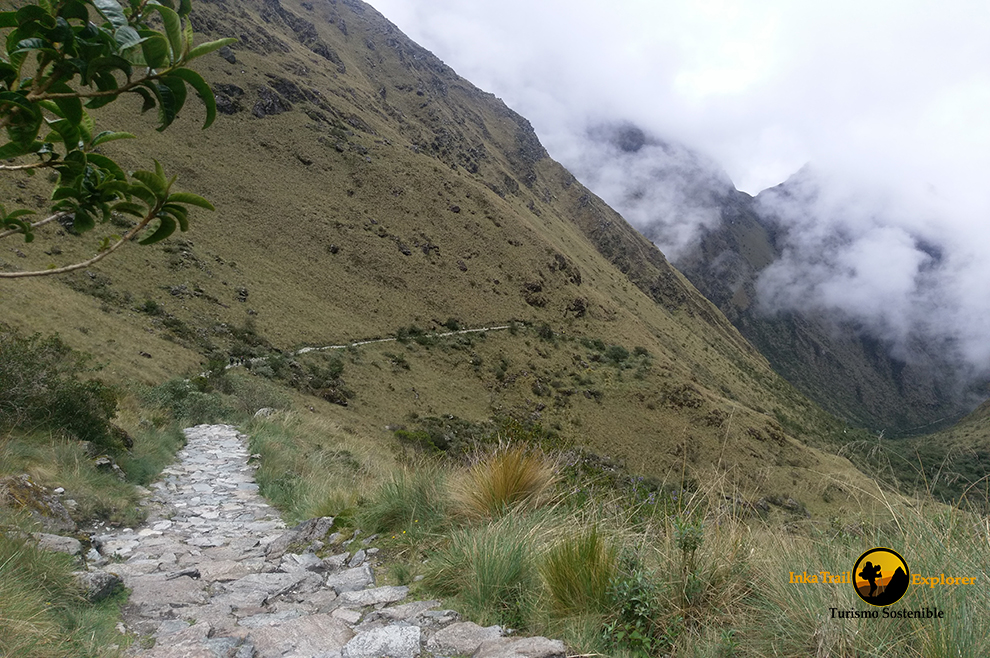 Early in the morning, we are going to meet you at your hotel and take you to the train station in our minivan. Once there, we will take whichever train we had previously booked—the 6:10 or the 7:45 train— from Ollantaytambo. This scenic route follows the Sacred Valley and the Urubamba River until we get to the 104th km mark located 2,000m (6,561ft) above sea level which is the starting point of the Short Inca Trail.
We will begin this adventure to Machu Picchu by visiting the ruins of Chachabamba—a gorgeous Incan site composed of ancient stone-carved walls. Next, we will travel for about 3 hours (4km) across a mountain completely covered by lush vegetation with incredible views of mountian glaciers and the turbulent waters of the Urubamba River. Once we finish this hike, we will arrive to Wiñay Wayna—an awe-inspiring Inca ruin located at 2,700m / 8,858ft in the cloud forest. This mysterious site features one of the most beautiful buildings made by the Incas, and it is a perfect illustration of one of the agricultural laboratories used during the Inca empire. It contains numerous terraces where the Incas used to grow all sorts of plants and vegetables, including the popular coca leaf.
After exploring Wiñay Wayna, we will continue walking on the beautiful Classic Inca Trail until Inti Punku or the "Sun Gate". It is at this point where hikers get to see the most amazing views Machu Picchu has to offer.  Fun fact: during the summer solstice, the sunlight passes through the Sun Gate, and it shines through the window of Machu Picchu's Sun temple with uncanny precision. This is one of the most important and incredible phenomenons of the Incan empire; it also attributes to why the Sun Gate has become such a popular attraction for travelers.
After this, it is only an hour descent to Machu Picchu (2400m / 7873ft). We'll arrive at just the perfect time to enjoy the amazing sunset without having to deal with large crowds. Afterwards, we will catch a bus down to the town of Aguas Calientes where our accommodations will be at a nice 3-star hotel.
Aguas Calientes is a beautiful city that acts as a gateway to Machu Picchu. Most tourists enjoy lunch or dinner at any of the various restaurants. If you walk around whether it is during the day or at night, you will not be able to help but notice the local extravagance of the architecture of the city along with its bustling night-life.  The name Aguas Calientes means "hot waters" which is quite befitting because it is here where you can soak in the healing natural hot springs of Peru. To make things even better, the springs are only a 10 minute walk from the heart of the city. It is so close that you wouldn't even need your guide.
DAY 2: Machu Picchu – Cusco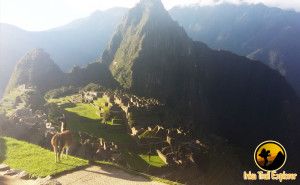 After a big breakfast in the hotel, it is only a 20-minute bus ride to the Sacred City (Machu Picchu). We will travel through the mountainous rainforest featuring incredible views of the lush green and misty cloud forest Macchu Picchu. Once we arrive to the gate, your tour guide will offer you a wonderful tour through the most important temples and palaces of this beautiful Inca site. After the guided tour, you will have free time to explore the ruins on your own.  Notably, if you have bought a permit to climb Huayna (Wiñay) Picchu or the Machu Picchu mountain, you will begin your next exciting adventure here. After enjoying this amazing monument, you have to catch the bus back to Aguas Calientes followed by the train back to Cusco. The train usually departs in the afternoon to Ollantaytambo.
What is included in the 2-Day Inca Trail to Machu Picchu package?
Aiport/Hotel: Upon your arrival to the airport in Cusco, one of our representatives will be waiting for you with a flag containing our "Inka Trail Explorer" logo. From there, we will take straight to your hotel. (Remember, we only include one-way transportation.)
Professional Tour Guides: We have a staff of professional English-speaking tour guides with many years of experience in tourism. They are all passionate about history, archeology, and  astronomy of Peru. They always love having the opportunity to teach you and to answer any questions you may have about their heritage.
Briefing: The night before you start the trip, we are going to give you all of the information about the 2-Day Trek on the Inca Trail to Machu Picchu.
Hotel: We include a one-night stay at a 3-star hotel in Aguas Calintes—the town located just below Machu Picchu. Your hotel confirmation will be listed on your invoice. The accommodations are based on sharing a room – either a double, matrimonial or triple. There is a $30 USD surcharge per person if you want to book a single room. All rooms include private bathrooms with hot showers and Wi-Fi. We also have no problem upgrading your hotel if you would prefer something a bit fancier.
Transportation: We include ALL necessary transportation on this trip from the beginning to end. Our train service is Expedition Class, but it can be upgraded to the Vistadome train.
All Tickets for Entrance and Transportation: In the Short Inca Trail package, we include all entrance fees and transportation tickets: one for the entrance to the trail, one for the entrance fee into Machu Picchu, tickets for both ways on the train, and three bus tickets: one down to the hotel on the first day and two tickets up and down the mountain on the second day.
Lunch: We are going to provide you a boxed lunch containing some cookies, fruits, and chocolates. For the main course, you will have the choice of chicken or a vegetarian option. We will also provide some bottles of water, but you should get some extra just in case you may need more. We recommend that you buy extra water before you start the Inca Trail Tours to Machu Picchu.
What's Not Included on the 2-Day Inca Trail Trek?
Hiking Poles: They're highly recommended. It helps you keep your balance, especially when going down steep hills. If you bring your own, they must have a rubber tips. If you do not have a pair, they can be rented from us.
Huayna Picchu: This amazing mountain stands behind Machu Picchu; the views from the top are spectacular. It a 45-minute hike both ways, and it is quite steep. If you are interested in experiencing this adventure, you need to book it in advance. Also, we highly recommend doing the climb with the second group at 10am because the views are so much better.
Breakfast: Breakfast is not included on the first day, but once we leave Cusco, we'll travel through the Sacred Valley to Ollantaytambo where we'll find a quaint restaurant. You can purchase your breakfast there before we catch the train.
Lunch: After your guided tour in Machu Picchu, you'll have time to stop in Aguas Calientes before boarding your train back to Ollantaytambo. It is very easy to find a great restaurant in town because there are so many to try.
Short Inca Trail – Prices
Inka Trail Explorer warmly welcomes you, and we really want to make sure that you have the best possible experience on the Short Inca Trail. Our treks can be during any date of the year as long as there are available governmental permits for that day. Permits are only needed for your start date.
                     *Group Service Price: $475 USD Per Person*
A group service means that other hikers are able to join you. Your group will have varying hiking and fitness abilities. Our Professional Tour Guides are experts on how to keep the group moving and happy no matter how fast you go.
                      *Private Tour Service is also available and is priced by party size.*
Go on the most amazing adventure with your friends or loved ones by route of the alluring Inca Trail! It is the best way to experience all of Machu Picchu.  Our private tours can be any size, and we all will do our best to make this the most positively unforgettable experience of a lifetime.
2 Hikers   $520 USD per person
3 Hikers   $500 USD per person
4 Hikers   $480 USD per person
5 Hikers   $460 USD  per person
6 hikers   $440 USD per person
7+ Hikers $420 USD per person
Discounts
Student Discount: $20 USD (Requires ISIC Card to qualify)
Student Discounts apply to anyone who has a valid GREEN ISIC card at the time of the Inca Trail tours, or is 16 years old or younger. For those using an ISIC card to receive the discount, we do need to see a copy of the card at booking time. For children who are 16 years old or younger, we need a copy of their passport at the time of booking. Please send all information to info@inkatrailexplorer.com
2-Day Short Inca Trail Tours – Optional Extras
Optional Rentals
Optional Upgrades
Vistadome train (One-Way): $65 USD per person
Casa Andina Hotel: $55 USD per person if sharing a room ($110 USD for a single)
El Mapi Hotel: $65+ USD per person if sharing a room ($170+ USD for a single)
Additional Free Tours
If you are traveling to Peru with your family or friends and there are 4 or more people in your group, then you automatically get one of our additional tours for free. You may pick whichever one you like from the list below. Please note that we do not include the entrance fees for these, but we do include the transportation and a professional tour guide.
Do not worry single travelers! If you travel with us, you will also get special discounts on any of our additional tours.
South Valley Tour
Maras Moray Tour
Sacred Valley Tour
Cusco City Tour
2-Day Inca Trail: Packing List
Essentials
Daypacks can be any size for hiking the Short Inca Trail, but we always recommend bringing a small one. Inside Machu Picchu, bags larger than 25-L will not be allowed inside. If it is larger, you will need to store it outside the citadel gate.
Valid Passport
GREEN ISIC card (if you are booking as a student)
Immigration Card (given on the plane as you fly to Peru)
Water reservoir like Camelbaks is encouraged (You will need at least 2-3 liters.)
Comfortable hiking boots with ankle support
Water
Bugspray
Sunspray
Sunhat
Rain gear
Fleece jacket
Camera
Hand-sanitizer
First-aid kit: band-aids, moleskin, etc.
Toilet paper and a small plastic bag for waste
Extra Money for Souvenirs, Drinks & Tips
Face-moisturizer
Wet wipes
Toothbrush and toothpaste
2-Day Machu Picchu Trek: Booking
How to Book
It's always better to contact us directly and confirm with our team before you book. Once you are ready, please fill in our Booking Form and pay the Deposit of $200 USD per person. Our office will email you back that day with your confirmation. We always send out confirmations, so if you don't hear from us, check your spam or contact our office and we will resend them.
We are so excited to take you on the Inca Trail and thank you for choosing us and traveling with us in Cusco – Peru.