Back to in the Incas time, the Inti Raymi was the most important of four ceremonies celebrated in Cusco, as many chroniclers explained about it. The celebration took place in the Haukaypata or the main plaza in the city of Cusco.
Inti Raymi «Festival of the Sun» was a religious ceremony for the Incas in honor to the God Inti, one of the most venerated Gods for the Inca; it was the Winter Solstice celebration,the shortest days of the year in terms of the time between sunrise and sunset. In South America, which falls below the equator, the months of June & July are winter months.
In 1944, a historical reconstruction of the Inti Raymi was directed by Faustino Espinoza Navarro and indigenous actors. The first reconstruction was largely based on the chronic of Garcilaso de la Vega only referred to the religious ceremony.
Inti Raymi is still celebrated in indigenous cultures throughout the Andes Celebrations involve music, colorful costumes (most notable the woven Aya Huma mask) and the sharing of food.
Overview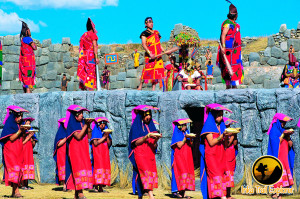 Cusco city on June is fully festivals, It start with corpus cristis (holy procession), afterward a week earlier of June 24th we have a parade, as a greeting to the anniversary of Cusco with presence of schools, universities, public and private institutions, and communities from all over Cusco region, afterward On June 24, the feast in honor of the Sun God, it takes place in the three historic and natural settings usually used for role:
This festival is followed by thousands of people. In case you are interested, book in advance and be part of Inti Raymi festival, Inka trail explorer takes you to the best location of scenery with better views, and you can enjoy the hole ceremony, a professional tour guide will be with you, translating to the language you speak, because this ceremony is carry out in Quechua Language.
Inclusions
Included
Professionaal Tour Guide: All Inka Trail Explorer's tour guides have University degree, they studied tourism and English at University. They all are passionate in the history, archeology, and also in the astronomy, they always will be happy teaching you about their heritage.
Entrance Tickets: Usually it is put on sole a month before. As soon as you book we are going to buy your ticket.
Briefing: The night before the festival, your guide will give you all detailed information about your tour schedule.
Ttransportation: Transportation is included in this tour from the beginning of your tour to the end of your tour.
Not Included
Lunch: Lunch is not included, but we can recommend you some good traditional Restaurants.
Dinner: Dinner is not included, but we can recommend you some good Restaurants in the City of Cusco.
Booking
---
---