The Ministerial Resolution No. 070-2007-MC is a very large document written in Spanish. It reflects changes to visiting hours, how guides must lead their groups in the site, the established circuits which tourists must follow through the site and reconfirmation of general entrance rules. Therefore, below we have highlighted the main new rules  Machu Picchu.
Why the government is changing the Rules?
Before Machu Picchu was integrated to the UNESCO World Heritage, the Inca Citadel was fairly unknown to the world. Since the UNESCO declared world heritage on Dec 09, 1983, tourism has grown year by year, and now in the high season the number of visitors per day are exceeding the capacity of the site causing overcrowdedness and disturbances to the visitors. The new rules have been implemented to moderate the number of people in the site and also to control how visitors and guides will properly explore the circuits. Even though the time is shorter than before, we clearly understand the main purpose of the new rules are to give a better satisfaction to visitors and also to maintain the integrity of the site and its legacy for future generations. However, in Inka Trail Explorer our expert guides are working hard to make sure that you will have the best experience during the tour of Machu Picchu.
The 3 different sessions to Visit Machu Picchu
According to the new regulations, Machu Picchu will be visited in 3 sessions. Recently, the government announced that the new rules will be officially applied on January 5th, 2019 and from this time forward, it will be operated in the following way:
1st session: from 6 am  to 8am
2nd session: from 9am to 11am
3rd session: from 12m to 2pm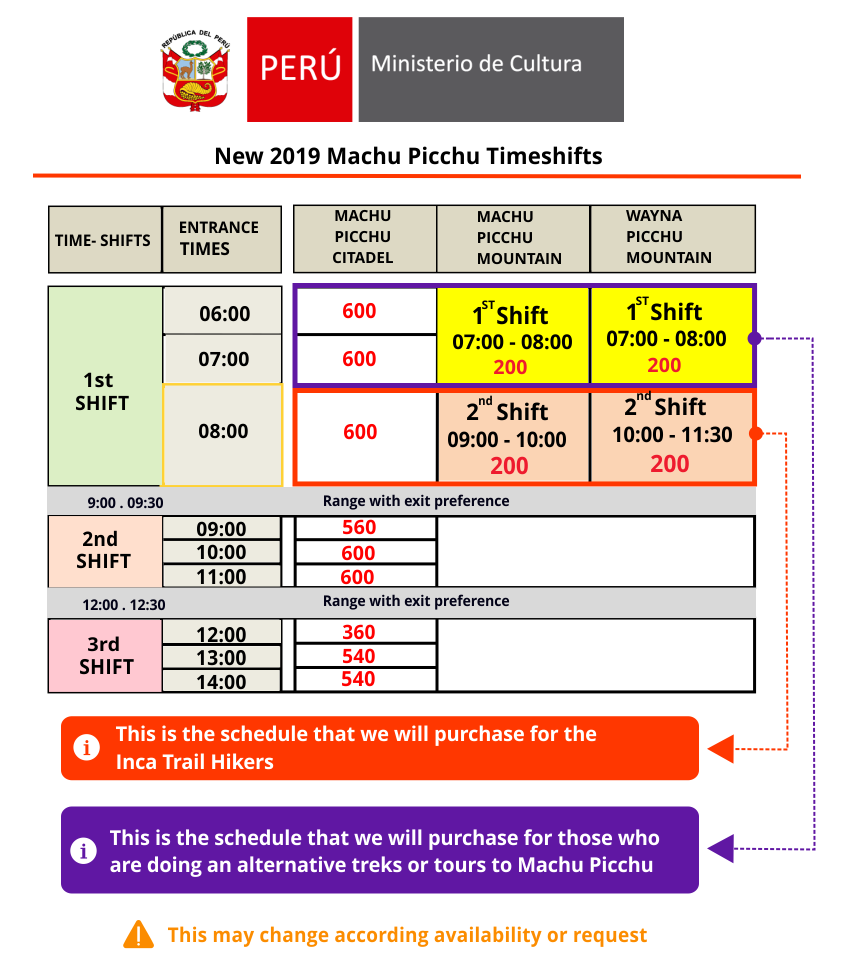 For each session, the number of entrance tickets are limited. You are only allowed to visit during the time of the session you have purchased, each new timeslot will be 4 hours long. If you require more time to explore this amazing site, you need to purchase an extra entrance ticket. Within this period of time, visitors must explore the citadel. Remember that readmittance is not permitted once visitors have left the site.
The clock starts running as soon as your ticket is stamped at the gate. Visitors and guides who don't enter and leave within the time frame stated, will be escorted to the exit by competent authorities or will have to pay a new entrance fee!
Do the new rules state that I will need a tour guide to visit Machu Picchu?
This is probably the most significant rule. From January 1, 2019 and onward, all visitors entering Machu Picchu must be accompanied by a professional tour guide. Guides must be licensed tour guides. They must present a valid, up-to-date guide identification upon entering Machu Picchu. Guides are only permitted to lead a maximum of 16 people per group. Guides need to sign in and sign out all visitors from their group. The guides will also be responsible for giving all pertitnent information to the visitors about the new regulations of the park before they enter the citadel.
Three established circuits in Machu Picchu
In the new rules, the government has established 3 circuits for which visitors to Machu Picchu must abide. Visitors must decide which route they will take upon arrival in Machu Picchu with their expert guides. This decision will depend on the visitors' interests and physical conditions. Some details about the circuits in Machu Picchu are as follows:
Circuit 1.- Is the most complete route, and the most highly recommended one. It requires you to be a in good physical condition, but it is nothing serious. It first takes you to the upper-sector of the citadel where you will have the best view of Machu Picchu itself, and then it goes through the most beautiful and important buildings.
Circuits 2 & 3.- Visit the mid and lower-sectors, and are more suitable for those who want a more relaxing visit. Still, they both take you through beautiful places.
Why  there are Alternative Circuits?
The alternative circuits are opened to visitors in order to give them some extra options and diversify the hikes. This also helps reduce crowding in the citadel.
Huayna Picchu Mountain
Huayna Picchu Mountain stands behind Machu Picchu. The views from the top are spectacular, and it only takes 45 minutes to go each way, but the route is quite steep.
If you are interested in this experience, you need to book this in advance. Also, we highly recommend climbing Huayna Picchu with the second group which is scheduled for 10am because the views during this time are so much better. This ticket is in combination with the general Machu Picchu entrance ticket; it cannot be purchased separately.
According to the new rules, all visitors to Huayna Picchu Mt have 2 extra hours (until 2pm) so that they will have enough time to explore Machu Picchu and hike the mountain.
First entrance: 7 am – 8 am
Second entrance: 10 am – 11 am
Machu Picchu Mountain
Machu Picchu Mt. stands just to the left of the citadel. This climb takes about a total of 2 hours to go up and down. The view from the top is absolutely phenomenal, but it needs to be booked in advance. This ticket mustb be purchased in combination with the general Machu Picchu entrance ticket; it cannot be purchased separately.
According to the new rules, all visitors to Machu Picchu Mt will have an extra 3 hours (until 3pm) so that they will have enough time to explore Machu Picchu and the mountain.
First entrance: 7 am – 8 am
Second entrance: 9 am – 10 am
The Sun Gate
The hike up to the Sun Gate is another option. It's the entrance that hikers on the Classic Inca Trail enter through in order to arrive to Machu Picchu. It takes 1 hour to hike and is free and available to all. According to the new rules, it can be visited during the morning session or in the afternoon session. It is still unsure if the government will give at least 1 hour to that people who want to do this extra hike.
The Inca Bridge 
The path to the Inca Bridge wraps around the mountain side in the opposite direction of the Machu Picchu ruins. A special ticket is not needed to go on this path, although daily traffic to the Inca Bridge is documented. Each visitor must log their name in a book at the entrance and then sign out. It's about a 40-minute hike the round trip along a fairly narrow path. While the hike isn't steep, some of the drop-offs along the edges may make some people uneasy.
The Inca Bridge is made of a few narrow logs perched above a sheer vertical drop – it´s believed to have served to link Machu Picchu with some villages in the jungle area. Crossing the bridge itself is strictly forbidden today for safety reasons but you can take as many photos as you like. On the return hike, you're likely to ponder whether or not you would have the courage to cross the bridge if you lived during the time of the Incas.
Can I re-enter Machu Pichu after the first session?
The new rules also prohibit re-entrance to Machu Picchu, meaning once you enter, you are not allowed to return if you decide to leave. There is a stipulation included in the new rules which allows re-entrance for special circumstances modafinil. At the moment, the only toilets at Machu Picchu are located outside of the park. So until a solution is found to solve this problem, this is a pretty acceptable "special circumstance."
Some important Rules that you should take in consideration when you visit Machu Picchu
We really want to inform you of the most important rules that should be taken into consideration so as to avoid any trouble when you are visiting Machu Picchu.
Any backpacks that are more than 26 liters are not permitted during the tour and must be placed in storage (near the entrance).
It is prohibited to enter with food.
It is prohibited to enter with alcoholic beverages.
It is prohibited to enter with umbrellas (hats, ponchos, and raincoats are permitted).
It is prohibited to enter with photographic tripods or any type of camera stand/support. This is only permitted with pre-authorization and the appropriate permit.
It is prohibited to enter with any musical instruments, including megaphones and speakers.
It is prohibited to enter with high-heeled shoes or any shoe with a hard sole. Only soft soles are permitted (like those found in training shoes or walking shoes/boots).
It is prohibited to enter with children's strollers or prams. Only strap on baby/child carriers are permitted.
It is prohibited to climb or lean on walls or any part of the citadel.
It is prohibited to touch, move or remove any viagra items / structures.
It is prohibited to enter with walking sticks that contain a metal or hard point. Only elderly people and physically-disable people are permitted to enter with a walking stick with a rubber tip.
It is prohibited to get naked, change clothing, lie down, run and/or jump.
It is prohibited to make loud noises, applaud, shout, whistle and sing. The tranquility and character of Machu Picchu must be maintained at all times.
It is prohibited to smoke or use an electronic cigarette.
It is prohibited to feed the resident or wild animals.
It is prohibited to paraglide and to fly any type of drone or small aircraft.