Maras Moray Tour – Itinerary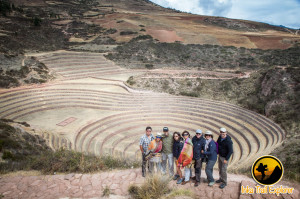 The Maras Moray tour starts with a visit to the Colonial town of Maras and its church. From Maras we continue to the nearby Inca site of Moray, a magnificent series of terraces circles set into the ground that were once used by the Incas for agricultural laboratory. Our next destination is the salt Mines which has been in use since Pre-Inca times. Water from a subterranean stream is channeled through pools where it evaporates and leaves behind pure salt crystals. With thousands of stark white pools stretching down the valley, the views are stunning.
Included in Maras Moray Tour
Professional Tour  Guide
Inka Trail Explorer has a staff of professional tour Guides with many years of experience in tourism, they studied tourism and English at University. They all are passionate in the history, archeology, and also in the astronomy, they always will be happy teaching you about their heritage.
Briefing
The night before the trek, your guide will give you all detailed information about your tour schedule.
Transportation
Transportation is included on this tour. We pick you up from your hotel on our minivan and take you on the tour, at the end of your tour we leave you in your  hotel.
Not Included in Maras Moray tour
Entrance Fee
known as a Boleto Turistico, which include 16 places to visit some museum and Inca ruins in the Cusco City and most of them are located in the Sacred Valley and south Valley. If you are traveling over a week in Cusco we highly recommend buy this Ticket. Also you can get a partial Ticket just for this tour. We only include de entrance fee to the salt mines.
Lunch
Inka Trail Explorer does not include lunch on this tour. We will be back in Cusco by noon,  so you can enjoy your lunch after the tour and also  we can recommend you some good traditional Restaurants in Cusco.
Maras Moray Tour – Price
Inka Trail Explorer warmly welcomes to you, and we really want to make the best experience for you on this tour.
Price: USD 180 for the group up to 5 people –  private service
Maras Moray Tour – Booking
How to book
It's always better contact us directly and confirm with our team before your booking. Our office will Email you back that day with your confirmation. We always send out confirmations, so if you don't hear from us, check your spam or contact our office and we will resend.