Cusco City Tour is the best way to explore the ancient City of the Incas, the Cusco City Tour takes you through the most important temples and palaces from the 14th and 16th centuries. Cusco is a unique testimony of the ancient Inca civilization, heart of the Tawantinsiuyo Imperial government, which exercised political, religious and administrative control over much of the South American Andes between the 15th and 16th centuries. The City represents the sum of 3000 years of indigenous and autonomous cultural development in the Peruvian Andes.
Itinerary
Cusco city Tour – Itinerary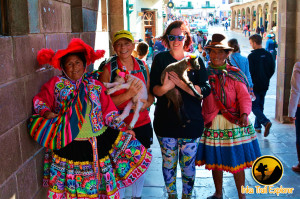 We are going to pick you up from your hotel at 2pm to begin this tour; the first place to visit is the cathedral.
Cathedral.- located in the plaza de Armas of Cusco the building of this monument started in 1560, and it had been finished in 1664, without any doubt, one of the most noticeable colonial monument in America, you will be amazed with the panting, wood carving and all the decoration in gold and silver, from the 16th and 17th centuries, definitely it is a masterpiece. After touring this sacred place you will continue on foot following an ancient street from the plaza to Qoricancha, the most important sun temple of de Incas.´
Qoricancha.- In this temple you will see the clash between the Inca culture and Catholicism, you will see firsthand the difference in building methods. The Incan construction is amazing since it was the key spiritual center of the Incas from which all roads lead to the four regions of the Incas.
This temple is a synthesis of the Incan organization, architecture, and religious, according chroniclers the building was extraordinary, made with gray basaltic andesite, the walls have Incan Imperial stile, which is a maximum expression of architecture in pre-Colombian America, as soon as you will finished the tour in coricancha, you will take your Van with direction to the next place, which is Saccsayhuaman.
Saccsayhuaman.- Is located 2 km away from Cusco City, it is one of the most imposing architectonic complex inherited from the Incan society, you will be marvel with beauty and enigmatic monoliths weighing as much as 200 tons , how amazing where these people, using just hand tools where able to move and fix, perfectly, after explore this amazing complex you are going to visit the next Inca complex which is a few minutes of bus ride.
Qenqo.- Was a temple with amazing and fascinating altars, where the Inca people used to sacrifice Llamas and maybe human to offer to their Gods, according some studies it was also for astronomical purpose, after explore Qenqo and 10 minutes of bus ride we are going to visit Pucapucara.
Pucapucara.- Is an important military center, to control people who were arriving in cusco city, or who were leaving Cusco city, at the same time to control temples which had around, just next to it is the next Inca complex to visit call Tambomachay.
Tambomachay.- Was an important temple to worship one of the most important elements, which is the water; you will see amazing niches and water fountains, now still water running through it. You'll then drive back down to cusco where the tour ends in the main square, unless you are taking a private tour tour, in which case we will return you to your hotel.
Inclusions
Included in Cusco city Tour
Professional Tour  Guide
Inka Trail Explorer has a staff of professional  tour guides with many years of experience, they studied tourism and English at University. They all are passionate in the history, archeology, and also in the astronomy, they always will be happy teaching you about their heritage and make fantastic trip for you.
Briefing
The night before the trek, your guide will give you all detailed information about your tour schedule.
Transportation
Transportation is included on this tour. We pick you up from your hotel and take you on the tour on our minivan and after the tour we take you back in your hotel.
Not Included in Cusco City Tour
Entrance fee
known as a Boleto Turistico, which include 16 places to visit some museum and Inca sites in Cusco City, most of them are located in the Sacred Valley and south Valley. If you are traveling over a week in Cusco we highly recommend buy this Ticket. Also you can get partial Tickets to visit just some specific places what you like more.
Lunch/Dinner
Lunch and Dinner are not included, but we can recommend you some good traditional Restaurants in Cusco.
Prices
Cusco City Tour – Prices
Inka Trail Explorer warmly welcomes to you, and we really want to make the best experience for you.
PRICES FOR MARCH 2016 THROUGH JANUARY 2017
US$15 group service
US$130 private service for the group (up to 6 people) not per person
Optional Extras
Booking
How to book
It's always better contact us directly and confirm with our team before your booking. Our office will email you back that day with your confirmation. We always send out confirmations, so if you don't hear from us, check your spam or contact our office and we will resend.
---
---